Let's be Social: Being Teased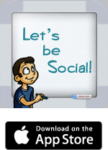 This blog post is part of a multi-part series on the lessons that come standard in our app, Let's be Social. Each post breaks down why we included this particular story, with commentary from Brittany Lehane, CCC-SLP, as well as a short overview of our lesson.
With 40 lessons standard and premium video lessons, Let's be Social has become a go-to app iPad app for Speech Pathologists, Special Education Teachers, Behavioral Professionals, and Parents to use with those learning social skills, including those who have autism. To learn more about Let's be Social and hear why it's been called a "dream come true", check it out here.
Why Being Teased?
Unfortunately teasing is an inevitable part of life that all of us go through. It is especially concerning for students with special needs and social challenges. Our lesson aims to teach children how to handle teasing when it occurs. By teaching what to do and what not to do, our students will gain the skills to handle being teased. Another area of concern is recognizing when you are being teased. Some kids don't know when people are laughing with them or at them. This distinction is an important social skill to learn. This is an area where being able to recognize emotions will be an important skill. Once students can recognize how they feel they can then start to think about what to do when they feel that way.
Our Lesson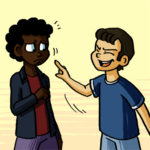 Tom teases Mark by calling him stupid. This makes Mark feel both embarrassed and sad. When a friend is acting like this, Mark should just walk away, because Tom isn't being a good friend. We find out that Tom didn't mean to make Mark feel bad, he was only joking. He should apologize, and realize that even though he didn't mean it, jokes can hurt people's feelings. 
Note: The information above is provided as a resource only, and in no way replaces the services performed by an ASHA-certified Speech Language Pathologist.