Let's be Social: Taking Turns in Conversation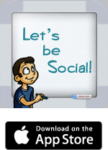 This blog post is part of a multi-part series on the lessons that come standard in our app, Let's be Social. Each post breaks down why we included this particular story, with commentary from Brittany Lehane, CCC-SLP, as well as a short overview of our lesson.
With 40 lessons standard and premium video lessons, Let's be Social has become a go-to app iPad app for Speech Pathologists, Special Education Teachers, Behavioral Professionals, and Parents to use with those learning social skills, including those who have autism. To learn more about Let's be Social and hear why it's been called a "dream come true", check it out here.
Why Taking Turns in Conversation?
I spend a lot of time teaching conversation skills. These interactions require more skills than you might think. One important skill is taking turns. Some of my students do all of the talking and need reminders to let other people talk. I often describe a conversation as a game of catch and use the visual of two people throwing a ball back and forth. A conversation must go back and forth in order to be successful. Sometimes I even practice throwing a ball back and forth in a group and whoever has the ball is the only one who can talk. This example really helps students understand because it is so concrete.
Our Lesson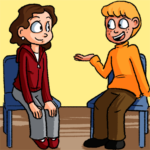 Have you ever been in a conversation where the other person won't let you get a word in? It's frustrating! In our lesson, Carly is talking with her classmate, Paul, but Carly is dominating the conversation. We learn that this makes Paul feel angry. We also learn that this doesn't mean you have to be quiet the entire time, you just have to take turns. Carly learns that if she won't let Paul talk, he won't want to talk to her anymore. Carly learns that you have to take turns, and the next time she is in a conversation, she will give others a turn to talk.
Note: The information above is provided as a resource only, and in no way replaces the services performed by an ASHA-certified Speech Language Pathologist.