Let's be Social – Social Skills Video: Making Eye Contact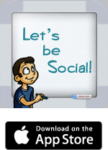 This blog post is part of a multi-part series on the lessons that come standard in our app, Let's be Social. Each post breaks down why we included this particular story, with commentary from Brittany Lehane, CCC-SLP, as well as a short overview of our lesson.
With 40 lessons standard and premium video lessons, Let's be Social has become a go-to app iPad app for Speech Pathologists, Special Education Teachers, Behavioral Professionals, and Parents to use with those learning social skills, including those who have autism. To learn more about Let's be Social and hear why it's been called a "dream come true", check it out here.
Why Making Eye Contact?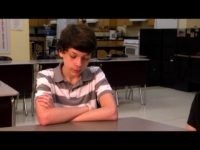 Making eye contact is one of the basic social skills and also one of the most important. Eye contact establishes who you are talking to and can be an indicator of what you are feeling or thinking about. Our video lesson models the appropriate way to make eye contact and what will happen if you don't. We emphasize how other people will feel if you don't make eye contact with them during a conversation.
We also teach the consequence of not making eye contact which is other people will have negative thoughts. In our video, the main character doesn't make eye contact and the result is that his friend feels confused and thinks he doesn't want to talk. These negative consequences help the main character understand how important eye contact is.
Our Video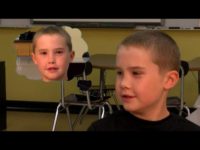 We start out by learning that Making Eye Contact means looking at a person you're having a conversation with. Not just when you're talking either. When you're listening, it's important to still make eye contact because it shows you're interested.
When Owen and Johnny start talking about their weekend, Johnny tells Owen about how much fun he has. He asks Owen how his weekend went. Owen says he got a new, awesome video game this weekend, but when he talks, he looks down at the desk, and not at Johnny. Johnny looks puzzled. Was Owen talking to him?
When we go into each person's thoughts, Johnny says that he is confused. He doesn't know if Owen didn't hear him or wants to talk to him.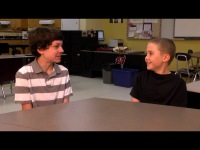 When Owen tries again, he looks right at Owen and tells him about his new video game, and looks Johnny in the eye. The conversation went smoothly. We wrap up by reinforcing that eye contact is important, because it let's them know who you're talking to, and shows that you're interested.
Note: The information above is provided as a resource only, and in no way replaces the services performed by an ASHA-certified Speech Language Pathologist.