Let's be Social: Sitting in Class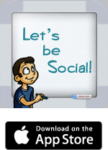 This blog post is part of a multi-part series on the lessons that come standard in our app, Let's be Social. Each post breaks down why we included this particular story, with commentary from Brittany Lehane, CCC-SLP, as well as a short overview of our lesson.
With 40 lessons standard and premium video lessons, Let's be Social has become a go-to app iPad app for Speech Pathologists, Special Education Teachers, Behavioral Professionals, and Parents to use with those learning social skills, including those who have autism. To learn more about Let's be Social and hear why it's been called a "dream come true", check it out here.
Why Sitting in Class?
Learning the rules of the school day is especially difficult for our students with weak social skills. Every situation requires different skills which can be confusing for our kids.  The lesson Sitting in Class is based on common situations that occur every day in class such as the teacher asking the class to move to a new location. The students are expected to follow the direction but our kiddos may have a hard time. It also includes how to ask for help when you are confused at school. This can be hard for our students to learn. As a speech therapist, I spend a lot of time teaching how to ask for help.
Our Lesson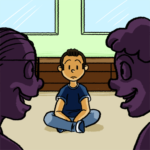 In Tom's class, it's time for reading. The teacher tells the class to sit in a circle. We learn the students should walk and sit down quietly. Tom hears his other classmates talking, which is distracting for him. Tom shouldn't yell at them though, he should try to pay attention to the teacher and let the teacher handle it. During the story, Tom gets confused. Rather than stop listening, he should ask the teacher a question so he understands. The teacher calls on Tom to answer a question. He doesn't know the answer, but he can always ask for help.
Note: The information above is provided as a resource only, and in no way replaces the services performed by an ASHA-certified Speech Language Pathologist.