Let's be Social: Respecting Teachers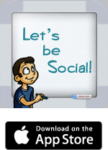 This blog post is part of a multi-part series on the lessons that come standard in our app, Let's be Social. Each post breaks down why we included this particular story, with commentary from Brittany Lehane, CCC-SLP, as well as a short overview of our lesson.
With 40 lessons standard and premium video lessons, Let's be Social has become a go-to app iPad app for Speech Pathologists, Special Education Teachers, Behavioral Professionals, and Parents to use with those learning social skills, including those who have autism. To learn more about Let's be Social and hear why it's been called a "dream come true", check it out here.
Why Respecting Teachers?
The concept of respect can be hard to teach because it is so abstract. Our kids may hear that word a lot but never truly understand it. Once students are able to understand higher level concepts like feelings, they can begin to think about other important concepts like respect. Teaching the concept of respect is important because it is a life skill that will help our students in school, social relationships, and work settings. In school, students need to respect their teachers and classmates. At work we all must show respect to our bosses and coworkers. In our social relationships, we can get into arguments if we don't respect other people's feelings. Our lesson breaks down this concept into what it is, why it's important, who you respect, and how your behaviors can show respect.
Our Lesson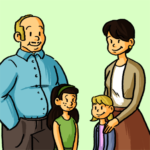 Emma has a new teacher. Things are different, and she is a little nervous. Emma's mom tells her to respect her teacher and everything will be ok. What is respect? Next we learn that respect is showing people that you care about their feelings. We respect teachers because they help us learn. We can show our teachers respect by listening to them. We learn at the end that family and friends are other people we should respect.

Note: The information above is provided as a resource only, and in no way replaces the services performed by an ASHA-certified Speech Language Pathologist.