Let's be Social: Making Eye Contact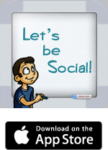 This blog post is part of a multi-part series on the lessons that come standard in our app, Let's be Social. Each post breaks down why we included this particular story, with commentary from Brittany Lehane, CCC-SLP, as well as a short overview of our lesson.
With 40 lessons standard and premium video lessons, Let's be Social has become a go-to app iPad app for Speech Pathologists, Special Education Teachers, Behavioral Professionals, and Parents to use with those learning social skills, including those who have autism. To learn more about Let's be Social and hear why it's been called a "dream come true", check it out here.
Why Making Eye Contact?
According to a recent study, lack of eye contact is one of the first indicators a child may have an Autism Spectrum Disorder. Therefore it makes sense that the skill of making eye contact is one of the basic social skills Speech-Language Pathologists teach. When you stop to think about it, this really is a crucial part of communicating. It lets people know who we are talking to. It also lets people know we're interested in what they have to say and are listening to them. Now think of all of the problems that can be caused by not looking at people when you speak. Working with students in high school, I still have to remind my students to maintain eye contact and look at whoever is speaking. I make visual reminders to keep our eyes and bodies "in group" to show we are engaged. This crucial skill is something that individuals with Autism may need to work on throughout their lifetime.
Our Lesson
In our story, 3 classmates (Mark, Tom, and Lisa) are talking. Tom and Mark start talking to Lisa, everything is fine.  When Lisa looks at the floor and asks Tom a question, we learn that the boys are confused, because they aren't which person Lisa is talking to. After learning that we should look at the people we are talking to, Lisa asks Tom her question again, and looks directly at him. Tom understands Lisa is talking to him and the conversation continues.
Note: The information above is provided as a resource only, and in no way replaces the services performed by an ASHA-certified Speech Language Pathologist.