Let's be Social: Keeping Personal Space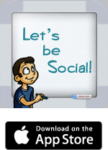 This blog post is part of a multi-part series on the lessons that come standard in our app, Let's be Social. Each post breaks down why we included this particular story, with commentary from Brittany Lehane, CCC-SLP, as well as a short overview of our lesson.
With 40 lessons standard and premium video lessons, Let's be Social has become a go-to app iPad app for Speech Pathologists, Special Education Teachers, Behavioral Professionals, and Parents to use with those learning social skills, including those who have autism. To learn more about Let's be Social and hear why it's been called a "dream come true", check it out here.
Why Keeping Personal Space?
Communication isn't limited to verbalizing – a huge part is what we communicate with our bodies. That's why working on body language is so important. At the start of my group lessons we all do a "body check" which means looking at ourselves to see if our bodies are facing the group. I also break down our bodies into individual parts – using our eyes, ears, and torso to show we are listening. This is a nice way to get in the right position before you even start an interaction. If you're not facing the person you're talking to it, can lead to a problem. Similarly, invading someone's personal space can also cause a problem. My kiddos have trouble being aware of their own space and the people around them. Using visuals such as a drawing of a bubble helps them visualize and understand what personal space means. Our lesson breaks down a situation where someone is invading another person's space and focuses on the other person's perspective. It's important to show how other people will feel so our students can learn the unintended consequences of their actions (i.e. no one will want to be around them if they invade personal space).
Our Lesson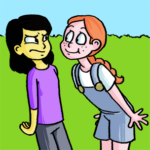 Ella and Lisa are playing together. Ella leans in close to Lisa – Lisa doesn't like that and leans back! Why did Lisa move away? What is personal space? Is moving in very close to someone appropriate? When Lisa moves away from Ella, she says: "I don't like that!"
We learn that Lisa feels uncomfortable. Ella moves back and apologizes to Lisa. We learn that Lisa doesn't have to stay away from her friends, but she also shouldn't get too close. Staying outside of someone's personal bubble is important.
Note: The information above is provided as a resource only, and in no way replaces the services performed by an ASHA-certified Speech Language Pathologist.