Let's be Social: Joining a Group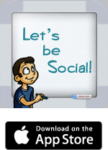 This blog post is part of a multi-part series on the lessons that come standard in our app, Let's be Social. Each post breaks down why we included this particular story, with commentary from Brittany Lehane, CCC-SLP, as well as a short overview of our lesson.
With 40 lessons standard and premium video lessons, Let's be Social has become a go-to app iPad app for Speech Pathologists, Special Education Teachers, Behavioral Professionals, and Parents to use with those learning social skills, including those who have autism. To learn more about Let's be Social and hear why it's been called a "dream come true", check it out here.
Why Joining a Group?
One of the trickiest skills for our students to master is understanding the nuances of social situations. Knowing how to appropriately join a group can be hard for our students because kids with social difficulties don't always have the skills to enter or exit conversations. This can look like rudely interrupting a group who are already playing a game or inserting yourself into a serious conversation.  Let's be Social teaches these skills so kids will learn to stop and read the situation before they enter it. Every lesson focuses on reading facial expressions and body language so they know how to respond. Our Joining a Group lesson teaches the student to stop and look at the setting before jumping into a situation and causing problems.
Our Lesson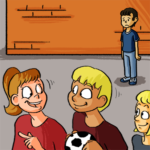 Tom notices a group playing on the playground and wants to join in. He feels nervous, which means that he is feeling shy. He wants to join the group, but what should he do? Stand near the group and say nothing, yell from far away, or approach the group and greet them? After talking to the group, Tom is able to join the next game. Tom feels angry he can't play right away, but the group was already in the middle of a game! He learns to wait calmly for the next game.
Note: The information above is provided as a resource only, and in no way replaces the services performed by an ASHA-certified Speech Language Pathologist.