Let's be Social: Greeting Friends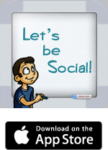 This blog post is part of a multi-part series on the lessons that come standard in our app, Let's be Social. Each post breaks down why we included this particular story, with commentary from Brittany Lehane, CCC-SLP, as well as a short overview of our lesson.
With 40 lessons standard and premium video lessons, Let's be Social has become a go-to app iPad app for Speech Pathologists, Special Education Teachers, Behavioral Professionals, and Parents to use with those learning social skills, including those who have autism. To learn more about Let's be Social and hear why it's been called a "dream come true", check it out here.
Why Greeting Friends?
Greetings are an integral part of conversations. For students who have communication disorders, they are usually one of the first things speech therapists address. Greetings are really the first step to an interaction. They begin conversations. Once students master the act of waving or saying hi, they are ready to work on more complicated skills such as joining a group or having conversations. Greetings are so important because they are the first step.
Our Lesson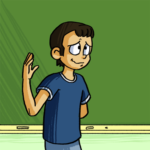 Tom feels nervous when he walks into the classroom at his new school. The teacher asks Tom to introduce himself. He says hello and that his name is Tom. After he tells everyone his name, the class greets him back by waving. If the class didn't greet Tom, he would feel sad. After the class waves to him, Tom feels happy to join the class!
Note: The information above is provided as a resource only, and in no way replaces the services performed by an ASHA-certified Speech Language Pathologist.