Let's be Social: Going to a New School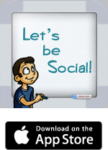 This blog post is part of a multi-part series on the lessons that come standard in our app, Let's be Social. Each post breaks down why we included this particular story, with commentary from Brittany Lehane, CCC-SLP, as well as a short overview of our lesson.
With 40 lessons standard and premium video lessons, Let's be Social has become a go-to app iPad app for Speech Pathologists, Special Education Teachers, Behavioral Professionals, and Parents to use with those learning social skills, including those who have autism. To learn more about Let's be Social and hear why it's been called a "dream come true", check it out here.
Why Going to a New School?
Big changes can feel scary and unsettling to anyone. Moving to a new town or going to a new school may be challenging for any student. For our students with special needs, this is especially difficult for many reasons. They have a new routine to learn, a new environment, and new people around them. For kids who need structured routines, this can be very challenging. Our lesson Going to a New School explains how it feels to go to a new school and teaches some strategies to handle this tough change. I recommend walking through the new school and visiting the classroom multiple times so the environment becomes more familiar to the child. Supports such as visual schedules or pictures of the new teachers/therapists can be helpful because there is a brand new cast of characters for the child to know. Transitions can be difficult but learning new strategies may alleviate some of the challenges.
Our Lesson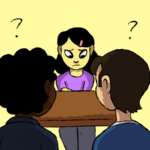 Tom is Going to a New School. He feels nervous, but that is ok. New schools make people feel nervous because the people, building, and routine are new. To feel better, Tom shouldn't yell at his mom for taking him to a new school, but he should go see the school and his new teacher. Tom's teacher gives him a schedule of the day. That makes Tom feel happy. Tom wants to see where his gym class is going to be. How can he ask? We learn he can nicely say, "Can I see the gym please?" Soon Tom will settle in and have fun at his new school.
Note: The information above is provided as a resource only, and in no way replaces the services performed by an ASHA-certified Speech Language Pathologist.