Let's be Social: Going to the Doctor's Office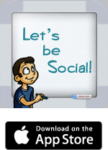 This blog post is part of a multi-part series on the lessons that come standard in our app, Let's be Social. Each post breaks down why we included this particular story, with commentary from Brittany Lehane, CCC-SLP, as well as a short overview of our lesson.
With 40 lessons standard and premium video lessons, Let's be Social has become a go-to app iPad app for Speech Pathologists, Special Education Teachers, Behavioral Professionals, and Parents to use with those learning social skills, including those who have autism. To learn more about Let's be Social and hear why it's been called a "dream come true", check it out here.
Why Going to the Doctor's Office?
Going to a doctor's appointment can be a frightening experience for our kiddos. Knowing what to expect and how to behave gives comfort to kids who have a hard time going to new places. That's why our Going to the Doctor's lesson breaks down the experience, discusses how they might feel there, and teaches how to react in this situation. To help kids feel more prepared, talk about what they will see and what is expected of them. The more prepared they feel, the less anxiety they will have towards going to new places.
Our Lesson
We start off by learning that Tom is scared of his trip to the doctor's office today. When Tom gets to the waiting room, we learn that he should sit and read quietly or play with some of the toys in the office. A nurse comes in and calls Tom's name. It's ok, she is just bringing him into the room to wait for the doctor. Once Tom is in the room, he is nervous while waiting for the doctor. The doctor comes in and checks Tom's body to make sure he is healthy. When he is done, the doctor gives Tom a sticker. Tom is happy that his appointment is over and he gets to go home now.
Note: The information above is provided as a resource only, and in no way replaces the services performed by an ASHA-certified Speech Language Pathologist.