Let's be Social: Apologizing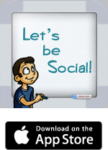 This blog post is part of a multi-part series on the lessons that come standard in our app, Let's be Social. Each post breaks down why we included this particular story, with commentary from Brittany Lehane, CCC-SLP, as well as a short overview of our lesson.
With 40 lessons standard and premium video lessons, Let's be Social has become a go-to app iPad app for Speech Pathologists, Special Education Teachers, Behavioral Professionals, and Parents to use with those learning social skills, including those who have autism. To learn more about Let's be Social and hear why it's been called a "dream come true", check it out here.
Why Apologizing?
Let's be Social aims to cover a wide range of skills from basic interactions to more nuanced social situations. The Social Relationships skill set covers higher level social skills that are important for forming and maintaining friendships and relationships with people. The Apologizing lesson was important to include because apologizing is crucial for positive interactions. We all have times in our lives when we must apologize for something, and we know our kiddos may have some miscommunications with friends. Having the skills to know what to say in these situations can help them in many ways. In our lesson we break down how the main character made his friend feel and the consequence of what it feels like to know you've hurt a friend. Then, he learns how to apologize and sees the positive outcome of being able to play with his friend again.
Our Lesson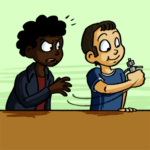 In our lesson, Tom and Mark are playing. Tom takes Mark's toy from him without asking. This makes Mark feel angry. Tom can tell his friend is angry because he turned away from Tom. Tom learns that if he takes toys from friends, no one will want to play with him. Now Tom is sad, because he has no one to play with. Tom need to apologize to Mark. He says sorry, and the boys go on to have fun playing with their toys.
Note: The information above is provided as a resource only, and in no way replaces the services performed by an ASHA-certified Speech Language Pathologist.