Let's be Social 1.1 Now Available
We're interrupting our usual therapy related blogs to tell you that Let's be Social 1.1 is now available in your country's app store. For this version, we listened customer feedback and added one thing that everyone was asking for – text to speech.  Your device can now read all of the app content – from Lesson Summaries, to Questions & Answers, out loud. We used Apple's new iOS7 text to speech API – it's really cool, versatile, and the voice sounds much more realistic than most text to speech voices.
The best part about it is that it work with your created content, without having to touch a thing. Take a look at this screenshot: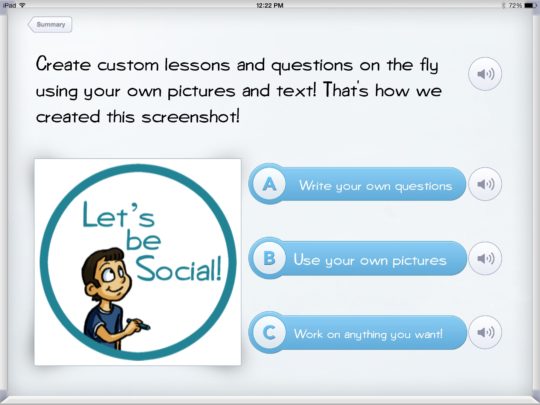 We created this for one of our app store screenshots using the built in question creator.  You can see the audio buttons next to the question and each answer. Simply tapping on one of those will read whatever is next to it out loud.
If you don't want text to speech, you can simply turn it off in our app settings, and the buttons will disappear.
We're really excited for this new update, because it really aligns with our core values. First, we want to make apps that are as accessible by as many people as possible. We're hoping this app update helps those that are visually impaired or that might have trouble with a lot of text use our app more. Second, we really care about our users and take your feedback very seriously. We hope that this release proves that!
If you want to download the app, visit https://itunes.apple.com/us/app/lets-be-social!/id772244049
If you want to learn more about how Let's be Social works, and how you can create your own content, check out this youtube video we just made!