Getting Started With the Worksheet Creator
Welcome to the latest creation from Everyday Speech, the Speech Therapy Worksheet Creator – the name says it all. This tool helps SLP's, teachers, behavioral professionals, and parents quickly create custom worksheets from one of our predesigned templates. The templates we have available are:
Question and Answer
Sorting
Spinner
Matching
Fill in the Blank
In addition to allowing you to create your own worksheets, we've made it super easy to find worksheets that other educators have created – you can search by keyword, subject, and worksheet type, then save all your worksheets to one place!
Where Can I Find the Worksheet Creator?
The worksheet creator is located at: https://everydayspeech.com/speech-therapy-worksheet-creator/  – bookmark it for easy access!
Alright – let's get started!
The Admin Bar – Your Guide to the Worksheet Creator
At the top of every worksheet creator related page, you'll see our admin bar. It's a thin gray strip with buttons that allows you to perform different worksheet functions:

We're going to go from right to left on the admin bar to explain what each button does, but the most important thing to remember is to look at the very top of your screen to navigate around the different worksheet creator areas.
Creating a Free Account
On the right side of the admin bar, you'll notice areas for logging in and creating accounts:

To create a worksheet and enjoy all of the features the worksheet creator has to offer, you'll need to create an account. Why? Because without an account, we can't know who created and saved each worksheet – meaning we can't organize them nicely for you or make them private (more on that later) if you want it just for you.
If you haven't already, select Create Account, and enter in the email and password you'd like to use for the worksheet creator. You can also sign up for Material Mix Monday (optional), which is a weekly email we send out with the best worksheets of the week!
Create your account, and you're all set!
Creating Worksheets
Once you're logged in, you can create your worksheets by either clicking the Create New Worksheet button on the admin bar or by navigating directly to https://everydayspeech.com/speech-therapy-worksheet-creator/
You can select which worksheet you want to create. Rather than go over how each individual template works here, we suggest that you hover over a template with your mouse and select Watch Tutorial to see a short, 2-3 minute overview of how to use a specific template. After you use each template once, they are pretty easy to get the hang of!
Public vs. Private
At the end of the creation process, you'll be asked whether you want the worksheet to be public or private. Public worksheets are viewable by the rest of the worksheet creator community and can be downloaded by anyone. Private worksheets are available only to you.
The vast majority of worksheets can be Public without issue – anyway, the point of the worksheet creator is to work together as a community to create great, free resources that other educators can use! The more worksheets there are, the more valuable the tool!
We suggest making worksheets Private when they contain specific private information about a student, or are so targeted at an individual that they aren't appropriate for the general population.
Editing and Deleting Worksheets
You can always edit or delete your worksheet by going to the individual link of the worksheet. You can get to a worksheet you've created by clicking on My Worksheets in the admin bar and then clicking Go to Worksheet on the individual worksheet you want to edit.
Get More Worksheets – A Treasure Trove of Activities!
Moving from right to left on the admin bar, our next stop is Get More Worksheets:

This links to our worksheet repository – an App Store of sorts of our worksheets. Click on that button or navigate directly to the repository at https://everydayspeech.com/worksheets/.
Sorting Through Worksheets
We've organized the worksheets in a few different ways, to try to get you the best cross-section of worksheets possible. The sections are:
Featured – Hand selected worksheets. These could be focused around an upcoming holiday, or just worksheets we really like!
Trending Now – The worksheets with the most downloads recently.
Most Downloaded – The worksheets with the most all time downloads.
Newest  – A listing of all public worksheets, newest first.
Searching for Worksheets
At the top of the worksheet creator, we have a search function:

You can filter by Type (Q&A, sorting, etc.), a subject area (social skills, articulation), or by a specific keyword.
I've Found A Worksheet. Now What?
Under each worksheet in the repository, you'll see several options: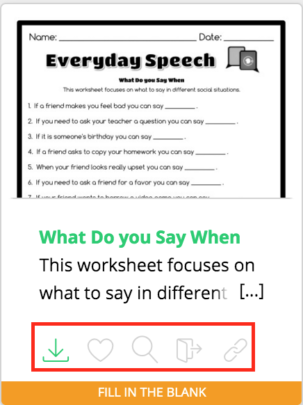 From left to right the buttons will:
Download the Worksheet – a PDF file.
Save it To My Worksheets – more on this in a minute.
Open a Full Screen Preview
Bring You to the Individual Worksheet Page – good for getting the direct link to share with friends, or to see more about the worksheet.
Copy Link – Copy the link to the worksheet to your clipboard for easy sharing!
My Worksheets – Save All Your Favorites in One Place
We've made a couple of references to it already, so just what is My Worksheets?

Well, it's pretty simple! Any worksheet you create is available for you at any time by clicking that icon or navigating directly to https://everydayspeech.com/my-worksheets/
In addition, that heart button that you see at the bottom of each worksheet card? Clicking that will save that worksheet to My Worksheets instantly – so you'll always have the worksheet handy. If you decide you don't want a worksheet anymore, just select the heart button again and it'll be removed!
My Worksheets looks very similar to the worksheet repository, except that it's only the worksheets you've saved!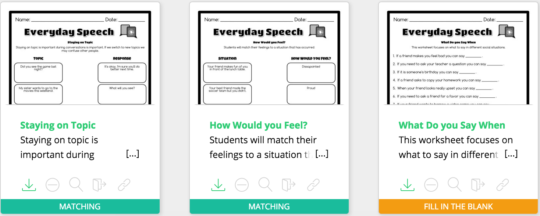 From here, download your favorite worksheet again or share the link with friends!
Wrapping Up – Sign Up For Material Mix Monday!
We're extremely excited about the possibilities for the worksheet creator! The best part is, the more you create, the better the tool becomes. If you have any questions, don't hesitate to contact us.
If you haven't signed up for Material Mix Monday, we highly suggest doing so! It's a once weekly email with the best worksheets from the worksheet creator community – a great way to start your week with some activities that are ready to go!
You can sign up here.
Enjoy the Worksheet Creator!